Asymchem Group (Stock Codes: 002821.SZ/6821.HK, hereinafter referred to as "Asymchem") and GeneQuantum Healthcare Co. Ltd. successfully signed a strategic cooperation agreement on April 18th. Both parties aim to leverage their respective strengths to accelerate the development of the ADC industry and address unmet clinical needs. Representatives from Asymchem Group, including Ms. Rui Yang, Co-CEO; Dr. Xinhui Hu, CTO & CBO; Mr. Yingwei Jiang, Executive Vice President; Dr. Kai Gao, Vice President and CTO of AsymBio; and Mr. Xian Zhang, Vice President of the Marketing Department, attended the signing ceremony.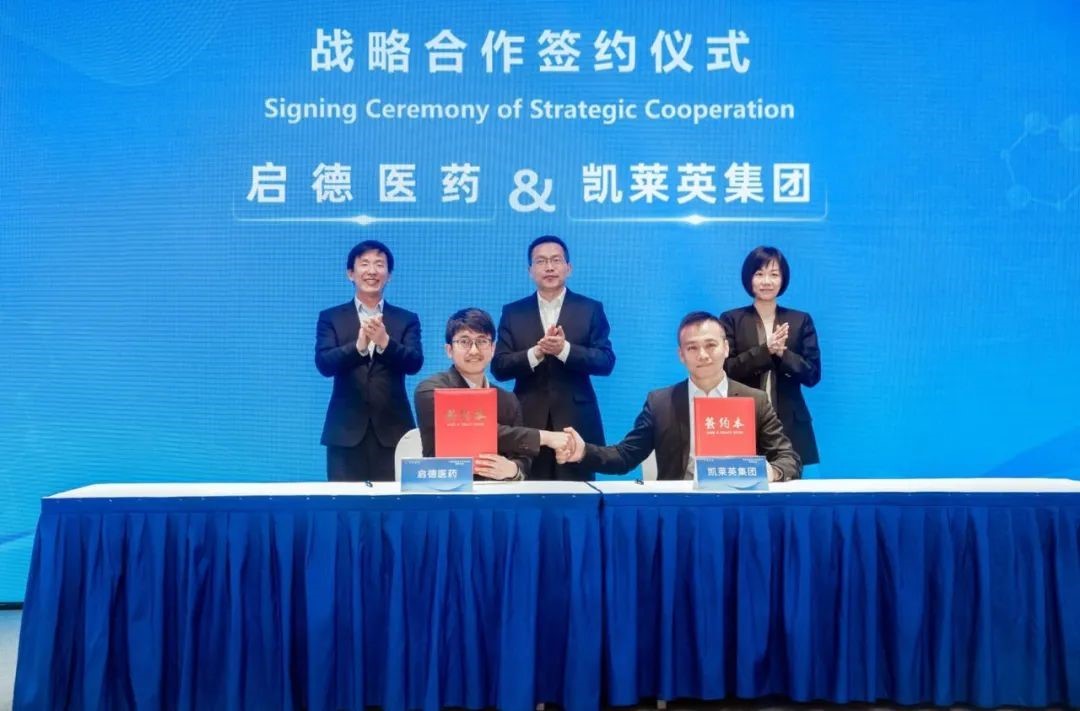 Following the signing of this strategic cooperation agreement, Asymchem Group will fully utilize its one-stop CMC service advantages. Through its advanced technical capabilities, rigorous quality management system, and lean operational support system, Asymchem will assist in the research and development transformation and commercialization of multiple ADC projects for GeneQuantum, offering a comprehensive one-stop CMC service including clinical sample supply, BLA filing, and commercial production. This will not only enhance the efficiency of innovative biopharmaceutical research and development but also reduce costs, ultimately benefiting patients worldwide. Additionally, GeneQuantum Healthcare will grant Asymchem the use of its proprietary and globally leading enzyme-mediated site-specific conjugation core technology, providing CDMO services for projects utilizing the GeneQuantum conjugation technology platform. GeneQuantum Healthcare's independent and innovative enzyme-mediated site-specific conjugation technology system, combined with Asymchem's one-stop CMC service capabilities in the ADC drug field, comprehensive industrial technology platform, efficient project delivery capabilities, and a globally distributed customer base, will undoubtedly generate synergies that exceed the sum of their parts.
In recent years, leveraging its competitive advantage in the small molecule field, Asymchem has facilitated the rapid development of new businesses such as chemical macromolecules, clinical research services, formulations, biologics, and synthetic biology technology. AsymBio, focusing on CDMO services for biologics, has benefited greatly from Asymchem's rich project experience and professional expertise in the payload-linker field. It offers a one-stop CMC service for ADC drugs, including antibody intermediate and bulk conjugation, as well as formulation filling. This service has garnered industry acclaim, with a strong emphasis on protecting customer intellectual property, supported by a robust quality system, a professional project team, reliable end-to-end project management, and competitive business advantages.
In the future, both parties will deepen their cooperation model, realizing complementary advantages. They will collaborate to further develop the thriving ADC drug research and production field, accelerating the research and development and transformation of next-generation biopharmaceutical conjugation drugs, thereby driving innovation in the industry.