Asymchem Group (Stock Codes: 002821.SZ, 6821.HK, hereinafter referred to as "Asymchem") and Ausper Biopharma, Inc (hereinafter referred to as "AusperBio") recently signed a strategic cooperation agreement. This strategic partnership marks a new beginning for both companies, with a focus on mutually beneficial collaboration in new drug research and development technology services, pharmaceutical regulatory consulting, brand promotion, and more. Asymchem, leveraging its years of technical expertise and extensive experience, will work closely with the Haobo Pharmaceutical team to accelerate and facilitate the market entry of valuable innovative drugs.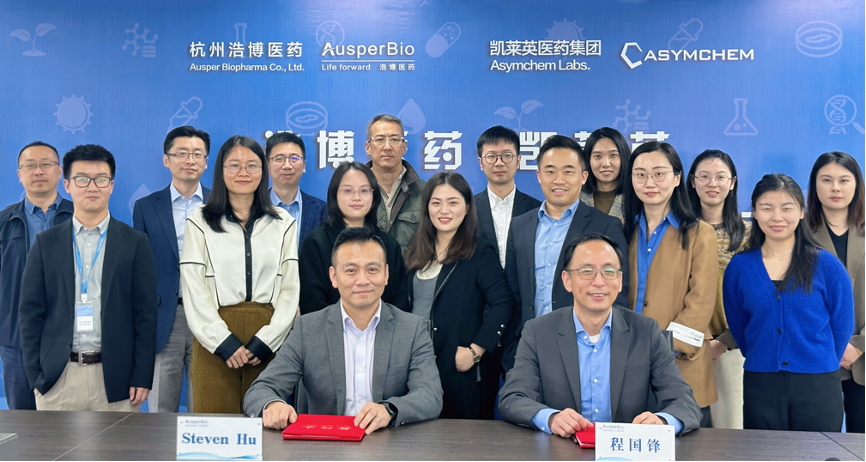 Present at the signing ceremony, conducted through a combination of online and offline channels, were Dr. Guofeng Cheng, CEO of AusperBio; Dr. Chengyong Yang, CSO; Dr. Yang Tian, SVP; Mr. Xiaofang Fang, Executive Director; Dr. Xinhui Hu, CTO & CBO of Asymchem Group; Dr. Kai Gao, Vice President and CTO of AsymBio; and Mr. Xian Zhang, Vice President of the Marketing Department, along with representatives from both business teams.
The strategic partnership between Asymchem and AusperBio encompasses a wide range of one-stop services, including but not limited to the development and optimization of processes/formulations for active pharmaceutical ingredients and finished products in areas such as small molecules, small nucleic acids, and biologics, as well as research and development of new varieties, clinical sample supply, commercial supply, drug-related pharmacokinetic and toxicological studies, clinical services, and regulatory consulting on pharmaceutical policies and regulations. The collaboration will initially focus on activities related to clinical supply, project management, MAH business, drug-related pharmacokinetic and toxicological research, IND registration, and more within AusperBio's ongoing projects.
This strategic collaboration not only strengthens the existing partnership between Asymchem and Haobo Pharmaceutical but also serves as a fresh starting point for deeper cooperation. In fact, the two parties have already established a strong foundation for collaboration and successfully executed multiple projects across various sectors. For example, in October 2022, AsymBio, a subsidiary of Asymchem, specializing in biologics CDMO, leveraged its advanced technological capabilities, professional service levels, and efficient one-stop project management experience to assist AusperBio and its joint venture company, Mingdao Haoyue, in obtaining clinical approval for the intranasal COVID-19 neutralizing antibody MY-586. In this project, Asymchem provided comprehensive services ranging from MY-586 research and production to clinical application. Through joint efforts, MY-586 received clinical research approval from the Chinese regulatory authorities in just 13 months, with production from DNA to toxicology and GMP batch liquid and formulation taking only 8 months.
In recent years, while consolidating its position in the small molecule CDMO main track, Asymchem has continuously expanded its service offerings into new areas such as chemical macromolecules, biological macromolecules, synthetic biology, and clinical CRO, creating new sources of robust growth for the company. Additionally, Asymchem has been building a GXP one-stop service engine, covering small molecule APIs, chemical macromolecules, biologics, formulations, pharmacology/pharmacokinetics/toxicology, clinical research, and regulatory application, among other services. Through a virtual project management matrix, seamless integration of various business modules is ensured, coupled with strong technical support, thus saving time and costs for customers and efficiently empowering and accelerating the research and development transformation process of innovative drugs.
With this elevated starting point in their strategic collaboration, Asymchem and AusperBio are poised for a formidable alliance, complementing each other's strengths and deepening their cooperation. This partnership aims to create greater economic and social benefits, continually improve unmet clinical needs, and join hands to benefit patients worldwide.